Surah / Chapter



Languages

Arabic



English



Other Languages





Loading...
Surat Al-Mā'idah
(The Table Spread)

-

سورة المائدة




Sahih International
But those who disbelieve and deny Our signs - those are the companions of Hellfire.
Sahih International
O you who have believed, remember the favor of Allah upon you when a people determined to extend their hands [in aggression] against you, but He withheld their hands from you; and fear Allah . And upon Allah let the believers rely.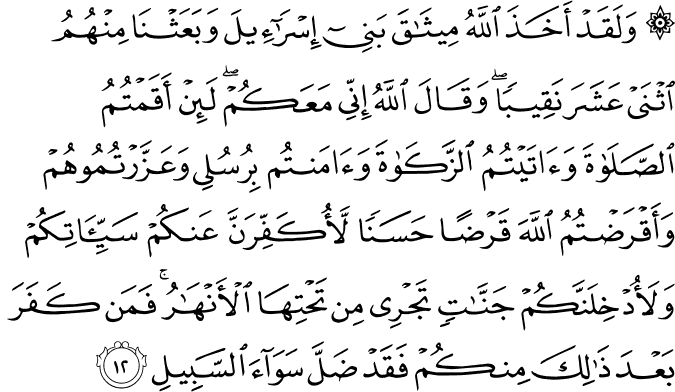 Sahih International
And Allah had already taken a covenant from the Children of Israel, and We delegated from among them twelve leaders. And Allah said, "I am with you. If you establish prayer and give zakah and believe in My messengers and support them and loan Allah a goodly loan, I will surely remove from you your misdeeds and admit you to gardens beneath which rivers flow. But whoever of you disbelieves after that has certainly strayed from the soundness of the way."

Sahih International
So for their breaking of the covenant We cursed them and made their hearts hard. They distort words from their [proper] usages and have forgotten a portion of that of which they were reminded. And you will still observe deceit among them, except a few of them. But pardon them and overlook [their misdeeds]. Indeed, Allah loves the doers of good.

Sahih International
And from those who say, "We are Christians" We took their covenant; but they forgot a portion of that of which they were reminded. So We caused among them animosity and hatred until the Day of Resurrection. And Allah is going to inform them about what they used to do.

Sahih International
O People of the Scripture, there has come to you Our Messenger making clear to you much of what you used to conceal of the Scripture and overlooking much. There has come to you from Allah a light and a clear Book.