Surah / Chapter



Languages

Arabic



English



Other Languages





Loading...
Surat Al-Mā'idah
(The Table Spread)

-

سورة المائدة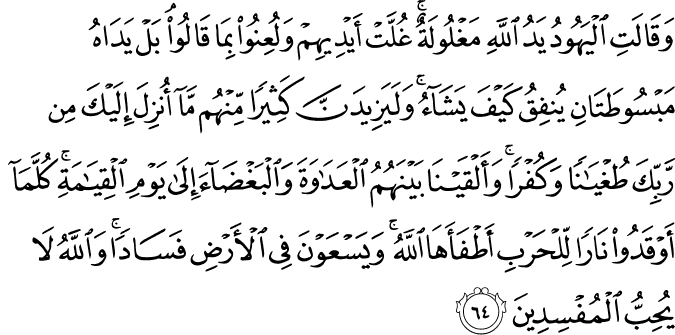 Sahih International
And the Jews say, "The hand of Allah is chained." Chained are their hands, and cursed are they for what they say. Rather, both His hands are extended; He spends however He wills. And that which has been revealed to you from your Lord will surely increase many of them in transgression and disbelief. And We have cast among them animosity and hatred until the Day of Resurrection. Every time they kindled the fire of war [against you], Allah extinguished it. And they strive throughout the land [causing] corruption, and Allah does not like corrupters.
Sahih International
And if only the People of the Scripture had believed and feared Allah , We would have removed from them their misdeeds and admitted them to Gardens of Pleasure.
Sahih International
And if only they upheld [the law of] the Torah, the Gospel, and what has been revealed to them from their Lord, they would have consumed [provision] from above them and from beneath their feet. Among them are a moderate community, but many of them - evil is that which they do.