Surah / Chapter



Languages

Arabic



English



Other Languages





Loading...
Surat Al-Mā'idah
(The Table Spread)

-

سورة المائدة




Sahih International
O you who have believed, do not prohibit the good things which Allah has made lawful to you and do not transgress. Indeed, Allah does not like transgressors.

Sahih International
And eat of what Allah has provided for you [which is] lawful and good. And fear Allah , in whom you are believers.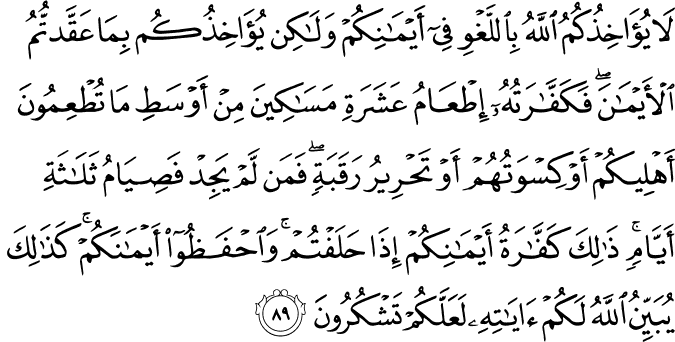 Sahih International
Allah will not impose blame upon you for what is meaningless in your oaths, but He will impose blame upon you for [breaking] what you intended of oaths. So its expiation is the feeding of ten needy people from the average of that which you feed your [own] families or clothing them or the freeing of a slave. But whoever cannot find [or afford it] - then a fast of three days [is required]. That is the expiation for oaths when you have sworn. But guard your oaths. Thus does Allah make clear to you His verses that you may be grateful.