Surah / Chapter



Languages

Arabic



English



Other Languages





Loading...
Surat Al-Mumtaĥanah
(She that is to be examined)

-

سورة الممتحنة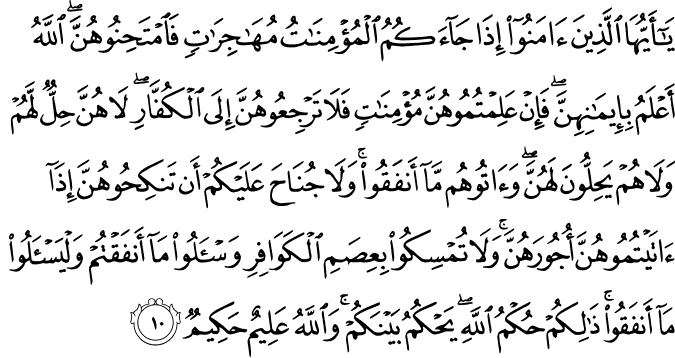 Sahih International
O you who have believed, when the believing women come to you as emigrants, examine them. Allah is most knowing as to their faith. And if you know them to be believers, then do not return them to the disbelievers; they are not lawful [wives] for them, nor are they lawful [husbands] for them. But give the disbelievers what they have spent. And there is no blame upon you if you marry them when you have given them their due compensation. And hold not to marriage bonds with disbelieving women, but ask for what you have spent and let them ask for what they have spent. That is the judgement of Allah ; He judges between you. And Allah is Knowing and Wise.
Sahih International
And if you have lost any of your wives to the disbelievers and you subsequently obtain [something], then give those whose wives have gone the equivalent of what they had spent. And fear Allah , in whom you are believers.
Sahih International
O Prophet, when the believing women come to you pledging to you that they will not associate anything with Allah , nor will they steal, nor will they commit unlawful sexual intercourse, nor will they kill their children, nor will they bring forth a slander they have invented between their arms and legs, nor will they disobey you in what is right - then accept their pledge and ask forgiveness for them of Allah . Indeed, Allah is Forgiving and Merciful.